Your own conversational bot for quick and responsive engagement with prospective residents, service users and candidates built specifically for Social Care.
Evolving people behaviour and expectation will impact
Social Care
Let InSi8 assist you in interacting with prospects across different channels and platforms like
websites, mobile and social media in a simple and effective manner so that they feel seen, heard and valued.

Get bots to perform repetitive tasks, freeing up time for your people to care 

Make it easier for customers and candidates to reach you and get their questions answered instantly

Eliminate human error and increase consistency through standardised processes

Understand customer and candidate better through better generated insights and provide personalised engagement
InSi8 is completely customisable.

What would you want InSi8 to do for you?
Inquiry / Lead Generation
With little to no effort, InSi8 enables you to quickly gather data and information about the visitor's interests. InSi8 can gather data based on the information visitors supply and transmit it to you via email integration so you can monitor the leads that have already been created. It can assist you in removing paperwork and other pointless procedures connected to the traditional lead creation process. Additionally, InSi8 can be used to respond to frequently asked questions (FAQs) from your visitors and prospects, saving them from having to again phone or email your Team with the same questions they have already asked numerous times. It will undoubtedly lighten the pressure on your team, saving both time and money.
With an automated booking procedure, you can do away with lengthy forms and increase visitor or prospect satisfaction. By providing a simple and interactive user interface, InSi8 allows people to arrange appointments such as IPP more quickly and easily. It also makes your Care business accessible to care seekers around-the-clock. By utilising InSi8, your prospective customers can schedule appointments with a few simple clicks and without having to wait.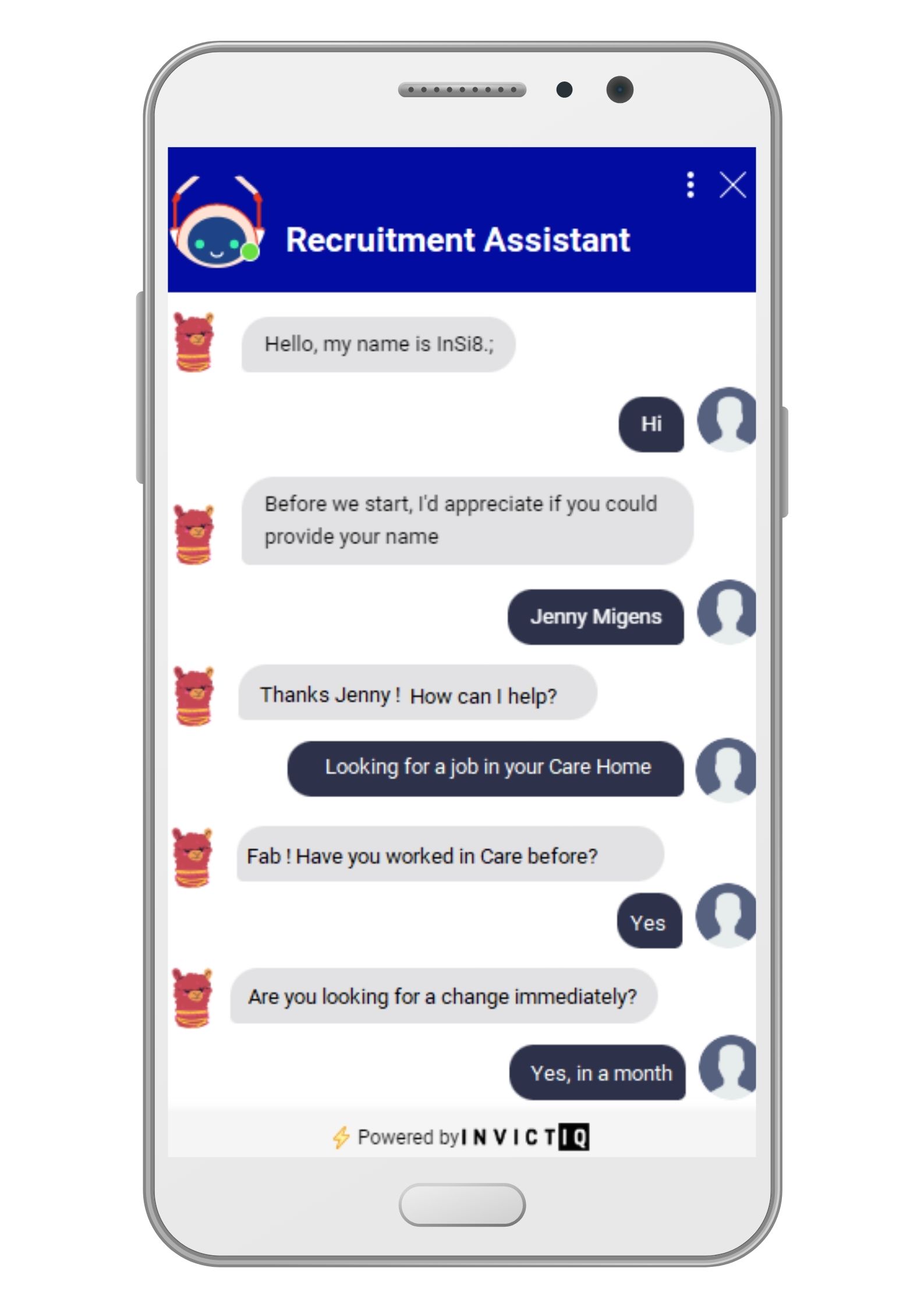 InSi8 provides opportunity for prospective candidates to interact with your brand on your career's site. It also ensures that your recruitment team takes less time to handle candidate inquiries or applicant information requests. Instead of asking your recruiters to answer the same questions over and over, InSi8 can provide an immediate response and determine if a candidate is right for you. InSi8 is designed to speed up and simplify the recruitment process. If prospects have a positive experience with you, they are more likely to remember future openings and refer you to their friends. Using the most up-to-date technology also demonstrates that you are innovative. This strengthens your position as a Care sector leader
Employee Engagement Survey
The employee engagement survey tool offered by InSi8 can be loaded with quick, well-tested employee surveys that provide you with the information you need about your workforce and culture. You can also make it safe for your team members to email you anonymous comments and suggestions. With a data-driven approach, InSi8 assists you in monitoring the status of your business culture over time. Regardless of the stage of growth your Care business is at, getting ideas and input from your employees is crucial
The impact of virtual assistants in driving people satisfaction
Increase in service quality
Frequently Asked Question